When your garage ceases to be the perfect place to get all your DIY projects done and becomes so messy and chaotic you could misplace your own car in it, it's time to get organized. If this applies to you and you're looking for the best garage storage system, then you've come to the right place.
We reviewed the top storage systems for your garage and the winner is Husky D Steel Garage Cabinet Set. The 6-piece cabinet with a weight capacity of 1,538 pounds gives a lot of storage space to keep all your tools, items, and sports equipment. The Husky is easy to assemble, durable and rust-resistant. It also comes with lockable doors for added security.
5 Best Garage Storage System Reviews
When you're looking for a garage storage system with durability and added security in mind, you can't go wrong with the Husky Steel Garage Cabinet. Besides its sturdy steel structure with the powdered coating finish that resists rust, the 6-piece cabinet is also easy to assemble.
Made from 24-gauge steel, this is one storage system to last for a lifetime and handle all the rough treatment that it gets at the garage. With a weight capacity of 1,538 pounds, you have enough storage room to clear all the clutter in the garage.
Convenience and safety are the distinguishing features of this unit. The adjustable shelves accommodate items of different sizes and the lockable cabinets give you extra security for your valuable tools. It also comes with a lifetime warranty.
Pros:
Durable 24-gauge steel construction.
Lifetime warranty.
Good weight capacity.
Lockable cabinets and adjustable shelves.
Cons:
A bit expensive.
Full assembly required.
Style and weight capacity are what sets the 7-piece NewAge Products Bold Series from the rest of the pack. With 2100 pounds weight capacity and magnetic latch doors for added security, you bring class to your garage.
The frames are made from 24-gauge fully welded steel for durability and the powder coat finish is rust-resistant. You won't have to worry about your children slamming the cabinet doors because they can take this treatment.
This storage system is highly customizable. You can add led lights for better visibility, and choose between wood and metal finish for the countertop to suit your taste and design needs. And since it's a standalone cabinet, you have many installation options according to your garage space.
Pros:
Fully welded steel frames.
Magnetic door latches.
2,100 pounds power capacity.
Cons:
Not many color options.
High price tag.
As an affordable garage cabinet where not only the cabinets but also the drawers are fully lockable, the Frontier D is a good option for someone on a budget. But even with the low price tag attached, the Frontier D doesn't compromise on durability.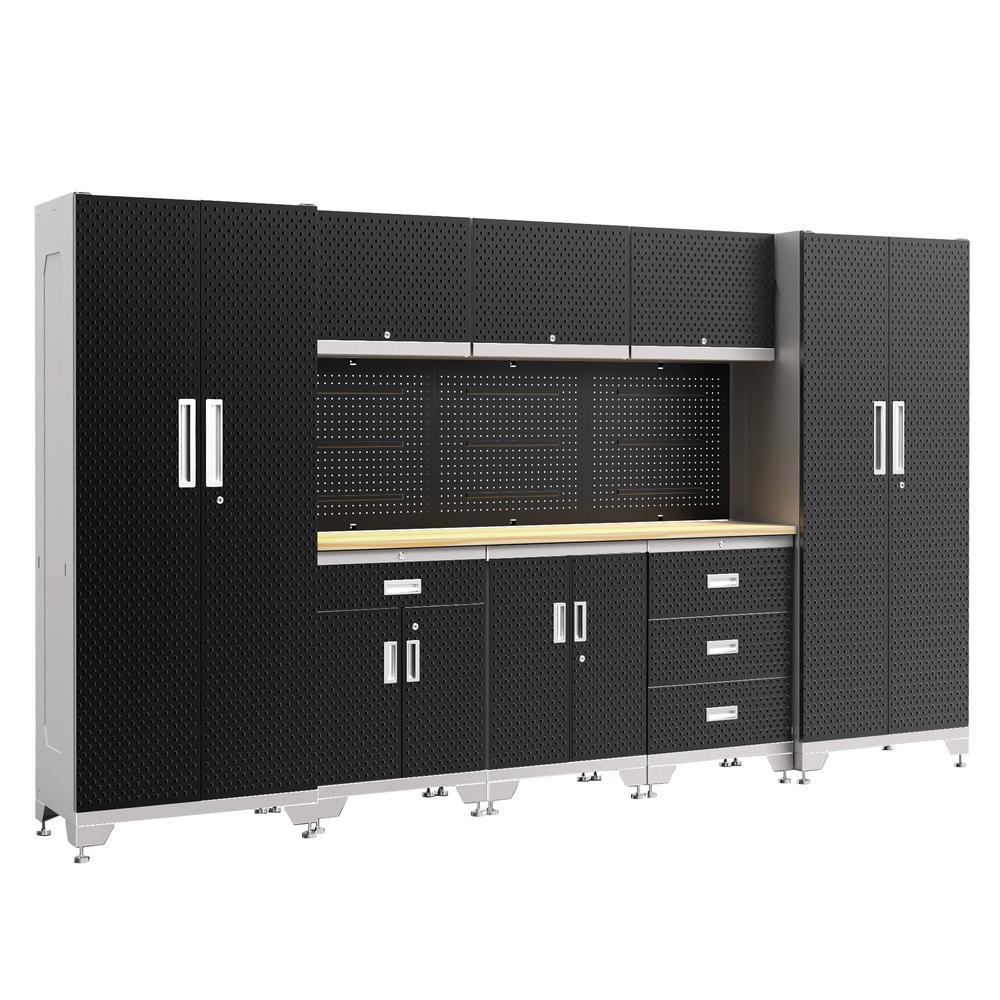 With the 22-gauge welded steel construction, you get a sturdy 10-piece cabinet that offers a lot of storage space and handles 2,860 pounds of weight. The doors are bolstered and so are the drawers. And they handle any uneven floor with easy with their adjustable feet.
As for the wooden top, that's just the cherry on the cake. It's a one-inch thick hardwood made from Rubber trees. And with a textured design that has a raised shield, it fits right in with any setting or garage decor.
Pros:
Affordable price.
10-piece set with welded steel frames.
2,860 pounds capacity weight.
Cons:
Magnets in doors and drawers not strong enough.
Taking your stuff off the floor is the main purpose of the Prepac HangUps cabinet. It's gets secured to the wall using a heavy-duty metal rail and hook system. It only comes in one color though and that's gray.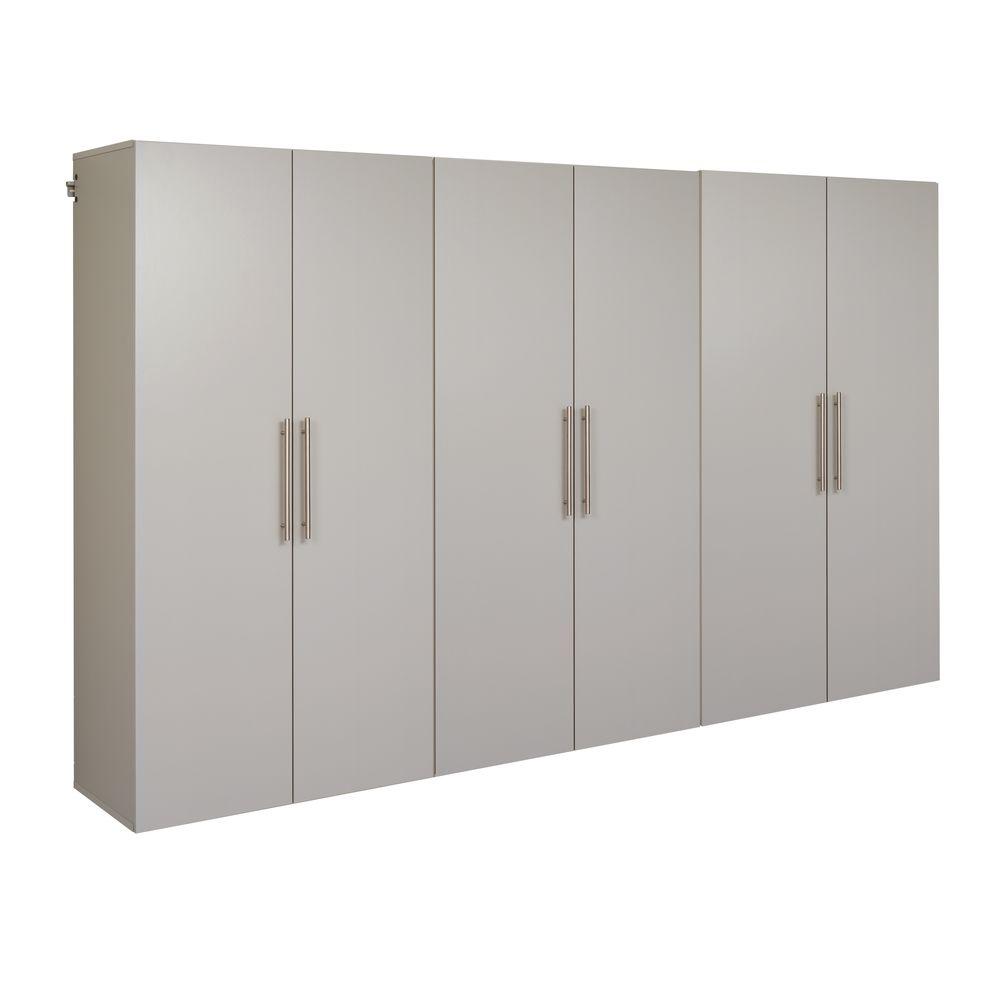 To assemble this unit you'll need a drill, stud finder, level, and a tape measure. You'll also need a lot of time on your hands and an endless reserve of patience since it's not easy to put together. Make sure to give the garage door enough space to open and don't mount it near where you park the car.
It has a modest weight capacity of 200 pounds in total. That's less than the average capacity for these types of storage cabinets. So don't expect a ton of storage room either.
Pros:
Wall-mounted clears garage floor space.
Protects stored items against dirt and water.
Light gray laminated finish.
Cons:
Modest weight capacity.
Not easy to assemble.
You know what you're getting when you choose a modular wall mounted garage cabinet. A cabinet that can be configured according to your own taste and needs. The 5-piece cabinet set comes with 12 hooks to cater for items of all shapes and sizes.
The cabinet is made from heavy-duty cellulose PVC panels. An interesting feature here is the cabinets don't have a back cover. This makes it easy to hook anything from inside the panel. It is both durable and stylish and easy to adjust with your garage space.
One drawback is that it comes in one color and that's silver. I think people would like to have more color options. In addition, it requires full assembly which can take time.
Pros:
Expandable design with a stylish finish.
Durable and easy to arrange.
Easy to clean.
Cons:
Only one color option.
Limited weight capacity.
What to Consider when Choosing the Best Garage Storage System
How Easy Is It to Assemble?
If you're like me, you'd be looking for a storage system for your garage that doesn't take much time or skill to put together. The last thing you'd want is to hammer and drill and make a mess of things only to discover that you forgot to leave enough space for the garage door. Now you need to redo it all over again.
The less time and fewer tools a garage storage system demands out of you, the better it is. This is one of the standards we set for choosing the best unit in this review. So always check that your unit of choice doesn't need special tools and only needs one pair of hands to assemble it.
Garage Cabinet Usage
During your planning stage, you clarified what exactly you needed a garage storage system for. This helps you settle on a unit that fits your purpose perfectly. If you're looking to store your bicycles, gardening tools, and all the other small things you have lying around, then a wall mounted unit will do nicely.
Buying a freestanding 8-piece storage system just to put away your golf clubs is an overkill. Not only will you pay too much for something you're not going to fully utilize, you'll also lose precious floor space instead of saving it.
Do You Need Lockable Cabinets?
Not everyone has something valuable to store in the garage. It's not like you're going to keep the family heirloom tucked away in a garage cabinet. That's neither safe nor recommended. So why do some people insist on having lockable cabinets?
Lockable cabinets are either for small and highly-specialized tools that have some value or for dangerous items. When you receive a high-tech piece of equipment from your friend in Germany, you wouldn't want it lying around where a child or your hyperactive dog can push it over the shelf and break it.
Chemicals and inflammable materials pose a hazard in the garage. And some people would rather keep them out of reach to avoid unwanted accidents. If you have neither precious items nor hazardous materials to store, then you don't need lockable cabinets.
What's It Made From?
To ensure sturdiness and durability, you'll need to check the material the storage cabinet is made from. Again it all comes down to what you need the cabinet for. But in general it's recommended to get a cabinet that can hold all your items without caving in. The most common materials for cabinets are:
Wood: The advantage that wood brings to your garage is the aesthetic qualities that come with a well-finished cabinet. Wood is durable and sturdy although it has less tolerance for humidity and dampness.
Plastic: Plastic cabinets are light and affordable. But you won't expect them to last and their weight capacity is rather low. Get them as a temporary solution until you find something better.
Metal: Like wood, metal cabinets are sturdy and can handle a lot of weight. And also like wood, humidity impacts their shelf life. Look for a cabinet with a powder coating finish to resist rust and erosion.
Wire: What wire has that other types of shelves don't have is ventilation. Imagine keeping a few cans of chemicals and automotive fluid in a closed cabinet? The smell would be awful. Not with wire though.
MDF: Similar to wood but less expensive. It has the same flaw wood has when it comes to humidity.
How Safe & Durable is it?
Let's face it. You're not going to be purchasing a garage storage every year. Garage storage systems are considered durable goods. You buy them once and use them for years on end. So durability should be your number one priority when shopping around for a garage cabinet.
Cabinets made from metal and wood are quite sturdy and will serve you with distinction for many years to come. They're also safer than plastic which can break. Also, consider the safety of storing and retrieving items. Does the storage system require complex steps such as pulling up and down as with overhead systems, or is it easy to reach?
Do You Need a Garage Workbench?
Some garage storage systems are so flexible you can either assemble them as a cabinet or as a workbench. Admittedly, these systems are not the easiest or most convenient to put together, but they have this flexibility as an advantage.
If you're looking for a garage workbench, you'll need to consider their weight capacity as well. Depending on the type of work you usually do in the garage, sturdiness is an important factor to consider. And if you like to move things around a lot inside the garage, make sure to get one with wheels.
Types of Garage Storage Systems
Garage storage systems come in three types. Each has its own advantages. Take your time to go through each one since that will help you find the right solution for you.
Freestanding Storage
These are the most common garage storage system types. They come in many shapes, colors, and sizes. The sky's the limit as they say. Keep in mind that these units can either be fixed to the wall or freestanding. The freestanding ones are easy to move around which is handy when you want to rearrange things around the garage.
These units also have some appealing features which the other types don't have. For one, they have the highest weight capacity of all storage systems. The doors to the cabinets offer more protection to the items you store in there.
Besides the doors, you can also have lockable drawers. These are used to secure precious items or flammable chemicals that you wouldn't want children to have access to. In addition, look for units with wheels for easy mobility.
Wall Mounted Storage Units
If you have little space as is, then you're looking for a unit that clears the floor without taking up much space. That's the advantage of wall mounted storage systems. You mount them on the wall and clear the clutter off the floor.
They come in a variety of options. From rails and adjustable racks to shelves, pegboards, and hooks. Sometimes one system will have a combination of two or more of these variations. The advantage here is you have more flexibility with your storage space.
Overall, you'd want to use this type to store tools and small items. It's not suitable for heavy or bulky items and its weight capacity is on the low side.
Overhead Storage
If neither of the previous types works for you and you need to keep your clutter out of your sight literally without throwing them out the garage, then the overhead system is the one you're looking for. This storage type claims the no-man's-land that's your garage ceiling and leaves your floor and walls free.
Normally you'd choose this type of storage when you have a lot of items that you don't use that often if at all. Storing and retrieving items from these units isn't as easy as with the other two types. Also this type is a hassle to install and has low weight capacity overall.
Garage Organization Made Easy
Getting organized to reclaim your garage is not for the faint of heart. It's not just that a lot of work is involved in this process, but you also need to get methodical in your approach. Just as Daniel Day-Lewis takes his time to study the role and live in the skin of the character, your mission to organize the garage requires the same dedication. So where do you start?
Different Solutions for Different Problems
I think we can all agree that garages are these flexible places on your property that can be used for practically any purpose. Some people go as far as park the car outside to leave the garage free for the son to practice with his band, the daughter to do her science project, or the dad to go through his midlife crisis.
Organizing your garage is closely related to the purpose of that part of your house. Since most people use it to park the car, then you'll need to give your vehicle enough room to enter and leave the premises without dents or scratches.
The storage unit should save you more space than it takes up. If your garage doesn't have much floor area and your car is too bulky, then you need to look for a unit that doesn't stand on the floor. A wall storage unit or an overhead type will serve your better than a freestanding one.
Work with your Budget
In many cases, your wallet will have the final say on which storage unit you're going to buy for your garage. You really don't want to go over budget here even if that unit you like fits perfectly with your garage design and colors.
Just come up with a budget and look for options that fit within your limits. The market is full of many options to suit all budgets. And the units we reviewed here are not particularly expensive. Some are quite affordable and still serve the purpose.
Plan Ahead
With a clear idea of what you want and how much money you're willing to spend, it's time to make a plan. Here are a few tips to help you get your head around this monumental undertaking:
Sort out your garage contents into two categories: Keep and Discard.
Estimate how much storage space you'd want for the Keep category.
That should be your guideline when choosing a storage system.
Decide whether you'd want some special features in the unit such as locking drawers.
Based on size, purpose and features, choose a type that meets all your needs.
Conclusion
For the best garage storage system, we chose the Husky D Steel Garage Cabinet Set. With its 24-gauge steel frames, you get durability and a weight capacity to match. The powder-coated finish ensures the cabinet won't rust even in damp garages.
You can easily move this standalone cabinet set thanks to the wheels and the adjustable shelves allow you to store various items with different sizes and heights. The lockable drawers and cabinets also have magnetic closure for extra security. And with a lifetime warranty, you know you're getting your money's worth.
You Might Also Like:

Mike Zhang. Founder of FamilyLifeShare