Feeling tired of digging through clutter to find your tools or park your car? A messy garage causes real frustration. You trip on toys, dig in boxes to find a wrench, and cram trash bags in any free space. The battle feels hopeless.
We have news – you can end garage clutter today.
Introducing the 7 best garage storage systems of 2024. We tested 23 top storage systems for durability, customization, and their space-saving abilities. Now we're ready to share the top 7.
These storage systems will transform your garage. You won't waste time on Saturdays searching for tools or moving boxes. Just perfectly organized tools, equipment, and accessories right at your fingertips.
With one of these systems, you'll get your Saturdays back and have room to park both cars stress-free.
Best Modular System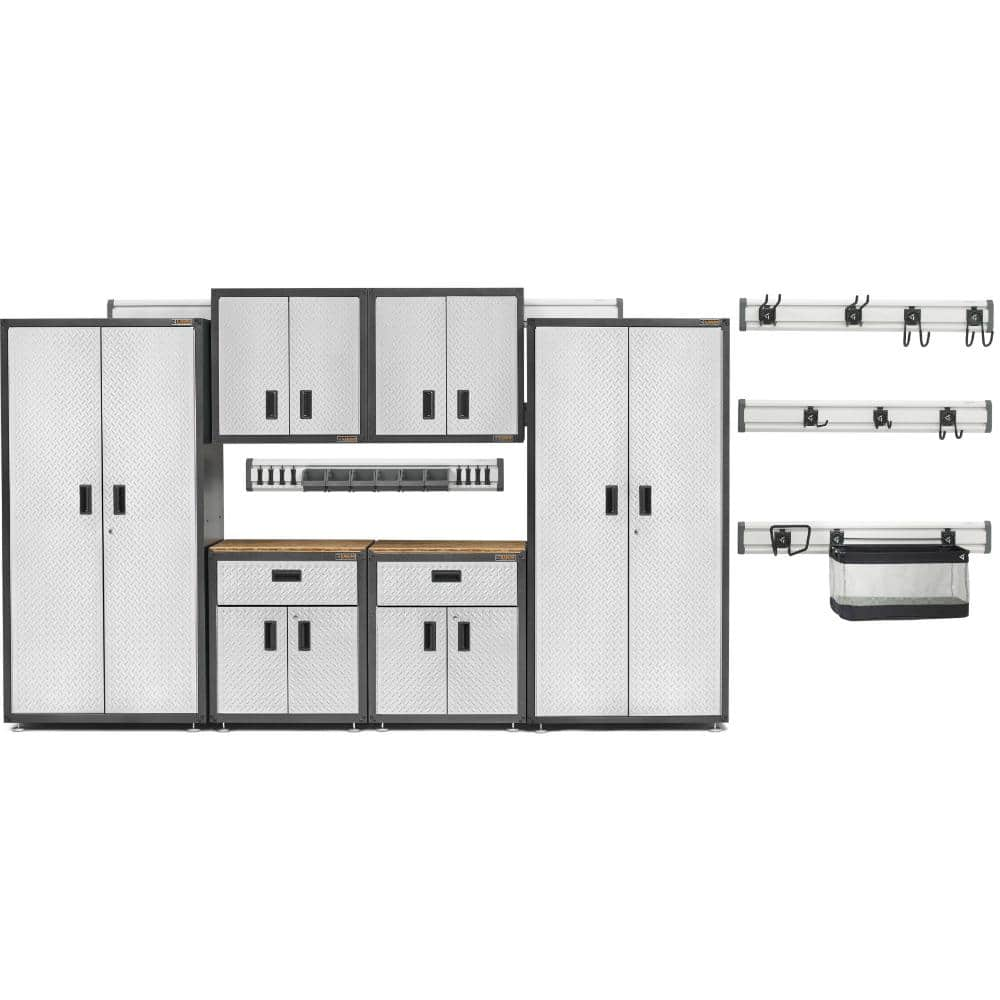 Our Top Picks
7 Best Garage Storage System Reviews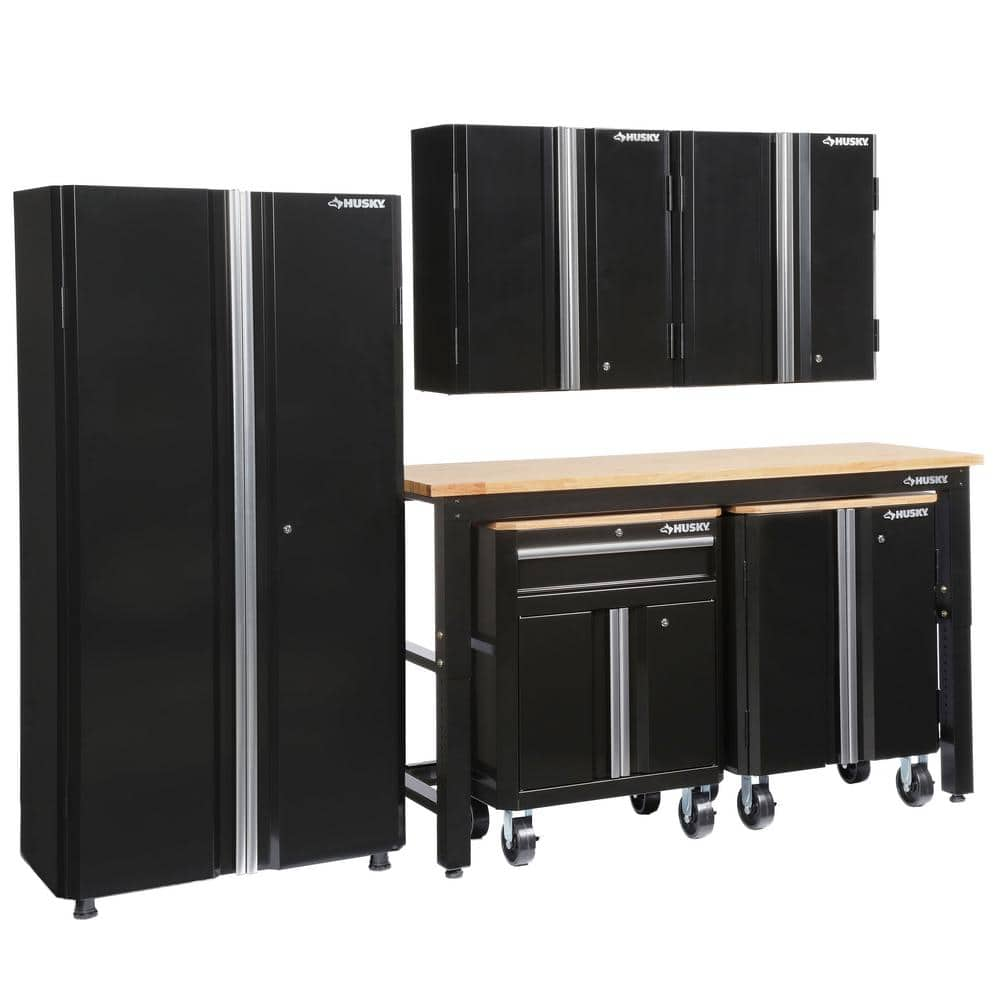 Key Features
Easy to assemble: The Husky 6-Piece Ready-to-Assemble Steel Garage Storage System can be easily put together without any hassle.
Spacious storage: With a height of 98 inches and a width of 108 inches, this system provides ample space for all your garage storage needs.
Durable construction: Made from sturdy steel, this garage storage system is built to last and withstand heavy use.
Sleek design: The black color and clean lines give this storage system a modern and stylish look that will complement any garage decor.
Multiple delivery options: Choose pickup, delivery, or in-store shipping. They've got you covered.
Flexible return policy: If you change your mind, you can return this item within 90 days of purchase for added peace of mind.
Pros
Durable steel construction ensures long-lasting strength and durability
Locking drawers and doors provide added security for valuable items
Easy assembly allows for quick setup and organization of garage or workspace
Professional black finish adds a sleek and stylish look to any space
Cons
The steel construction may make the system heavy and difficult to move around once assembled
Some users have reported difficulties with the locking mechanisms on drawers and doors
The black finish may show scratches or wear over time
The Husky 6-Piece Ready-to-Assemble Steel Garage Storage System takes the top spot on our list for an array of reasons. Exceptionally durable, this garage storage system is constructed from powder-coated steel, giving it significant strength and longevity you would require in a workspace environment. Whether you're storing heavy-duty tools or delicate equipment, this system has got you covered.
It has locking drawers and doors. This adds security – essential for garage storage. The storage unit has an easy assembly layout. With minimal DIY skills, you can set it up at home without hassle.
It has a sleek black finish. This gives it a professional look that fits any workspace. The storage system is 98in x 108in x 24in. This size gives generous room for equipment. It does not take up too much garage space.
This Husky model boasts a competitive price considering its comprehensive features and excellent build quality.
It has a generous return policy. This gives peace of mind when buying it.
This is the #1 garage storage system on our list. It has better value and performance than others on the market now.
Benefits
Made from durable, powder-coated steel for strength: This means you can confidently store heavy tools, equipment, and other items without worrying about the structure of your storage system.
Includes locking drawers and doors for added security: The locking drawers and doors ensure that only authorized individuals can open them, giving you peace of mind knowing that your items are safe and secure.
Easy to assemble at home: It has easy home assembly. No complicated instructions or frustration.
Sleek black finish adds a professional look: Transform your garage into an organized oasis that not only functions well but also looks great.
Comprehensive storage solution for garage or workspace: It offers ample space for all your storage needs so that you can keep your work area organized and clutter-free. No more wasting time searching for misplaced items!
This storage system is perfect if you want an organized garage or workspace. It looks neat and professional. It offers practical storage that is functional and stylish. Upgrade your space with this comprehensive system today!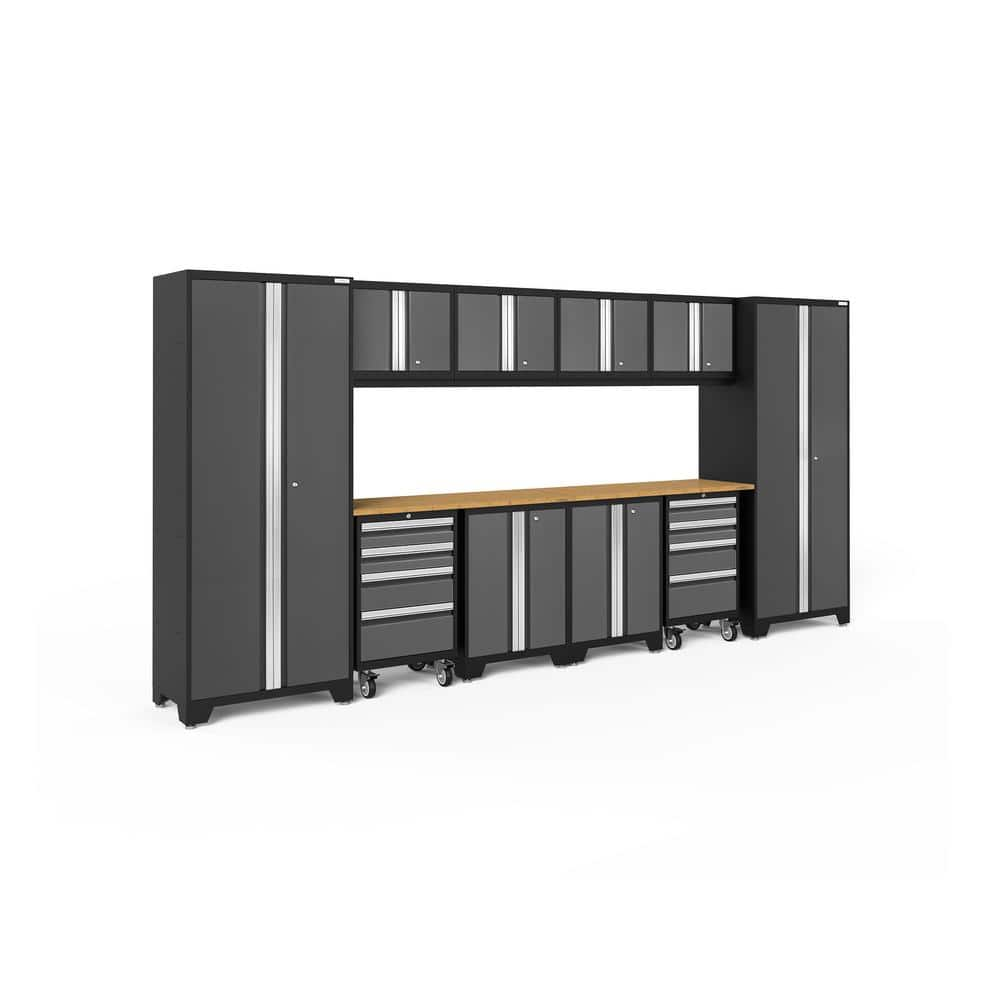 Key Features
12 – piece garage storage system with ample space to organize and store your tools and belongings.
Made from durable 24-gauge steel for long-lasting strength and stability.
Stylish charcoal gray color/finish adds a sleek touch to any garage or workspace.
Features a bamboo worktop for a beautiful, functional surface to complete projects on.
Generous dimensions of 156 inches wide x 77 inches high x 18 inches deep offer plenty of storage capacity.
Designed by NewAge Products, known for their high-quality storage solutions.
Pros
Durable steel construction ensures long-lasting use
Ample storage space for tools and equipment helps keep the garage organized
Scratch-resistant and stain-resistant paint finish maintains a clean and professional look
High-quality materials provide added durability for heavy-duty use
Cons
May be expensive compared to other garage storage options
Some customers have reported issues with the quality of the steel, such as dents or bends
This robust system is made from durable 24-gauge steel, ensuring that it can withstand heavy usage over a lengthy period.
It has a powder-coat paint finish. This resists stains and scratches. It also looks sleek.
This top storage solution has ample space for tools and equipment. It keeps everything organized and easy to reach.
It has a bamboo worktop for tasks and projects. This is practical and good value.
It outshines most other options within the "Best Garage Storage Systems" criteria due to these highly impactful combination points. It is worth the money.
Benefits
Durable 24-gauge steel construction: This ensures that your tools and equipment will be securely stored for years to come.
Ample storage space: It has ample storage space for all your needs.
Scratch-resistant and stain-resistant powder-coat paint finish: Keep your storage system looking brand new even with heavy use.
Versatile organization options: The versatile design allows for customizable organization, so you can create the perfect setup to suit your needs.
Easy assembly and installation: Forget about complicated assembly instructions or hiring professionals for installation.
This product is perfect for anyone looking to efficiently store their tools and equipment while adding a sleek touch to their space. Don't settle for cluttered storage, invest in the best with the NewAge Products Bold Series!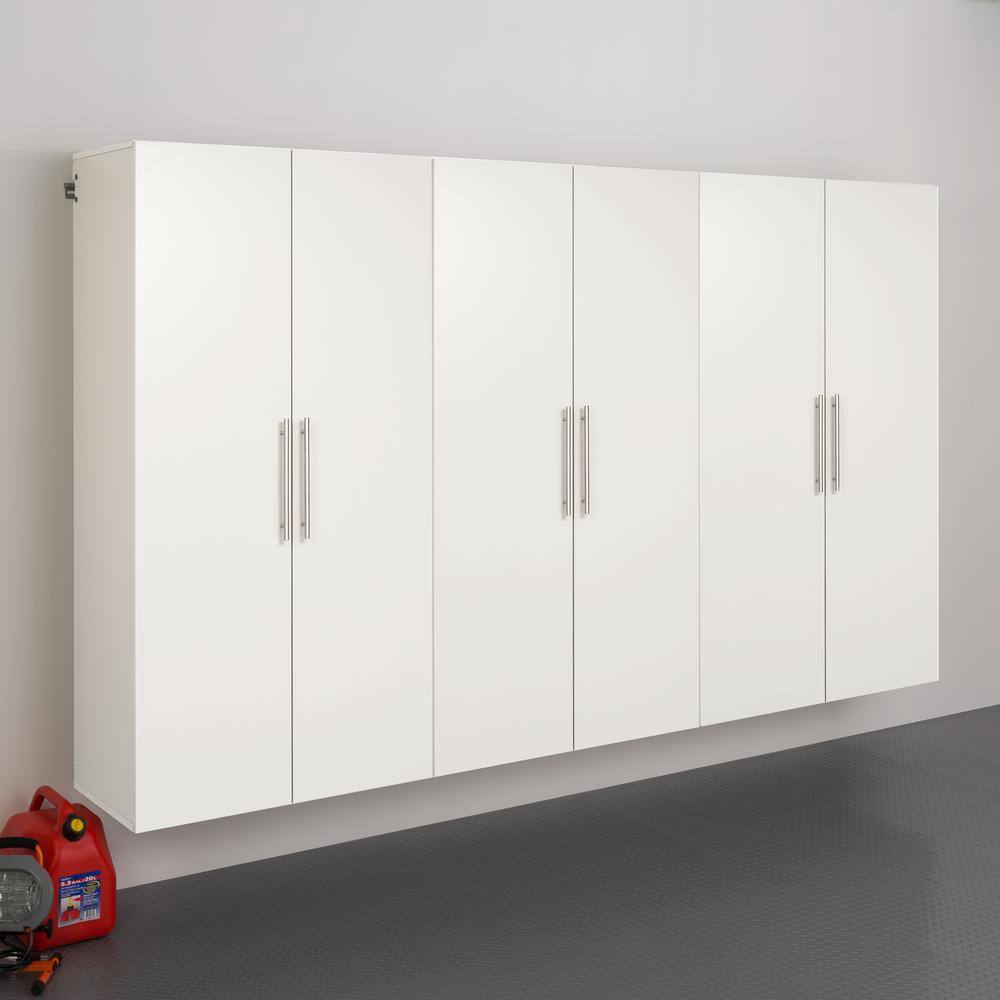 Key Features
3-piece garage storage system for organizing any size garage
Available in multiple stylish colors to match your garage decor
Ample storage space with dimensions of 108″ wide x 72″ high x 20″ deep
Made from durable composite material for long-lasting use
Easy installation with included hardware and instructions
Pros
Maximizes storage space in the garage
Provides a clean and organized look to the area
Easy to customize and adapt to individual storage needs
Cons
May not be suitable for heavy-duty storage needs
The Prepac HangUps 3-Piece Composite Garage Storage System lands at No.3 on our list due to its top-quality materials and customizable features.
This system is built from durable composite and melamine. It is robust and stylish with a white laminate finish.
With adjustable shelves, you can easily tailor this storage system to suit your needs – whether it's for accommodating taller power tools or keeping smaller gadgets accessible.
Another reason we selected the Prepac HangUps as one of our top picks is the color options – White, Light Gray, and Black – that blend seamlessly into any decor style, adding a touch of class in addition to functionality.
Finally, price plays an instrumental role in our ranking decision, this garage storage unit provides excellent value without compromising on quality or aesthetics hence securing its position as third best among other garage storage systems.
Benefits
Made of composite and melamine to ensure durable use: It can withstand heavy loads and resist wear and tear, ensuring that it will last for years to come.
Adjustable shelves facilitate hassle-free storage: You can customize the height of each shelf according to your specific needs, allowing you to efficiently store various items with ease.
Ample storage space maximizes organization capabilities: From tools and equipment to sports gear or household items, you can neatly organize everything and keep them within reach whenever needed.
Easy installation saves time and effort: It has easy installation with clear instructions.
White laminate finish enhances the elegant appeal: Not only does it make your storage system stand out, but it also creates a clean and polished look in your space.
The Prepac HangUps storage system is a smart investment for your garage or workspace. So go ahead and order the Prepac HangUps system today to level up your storage!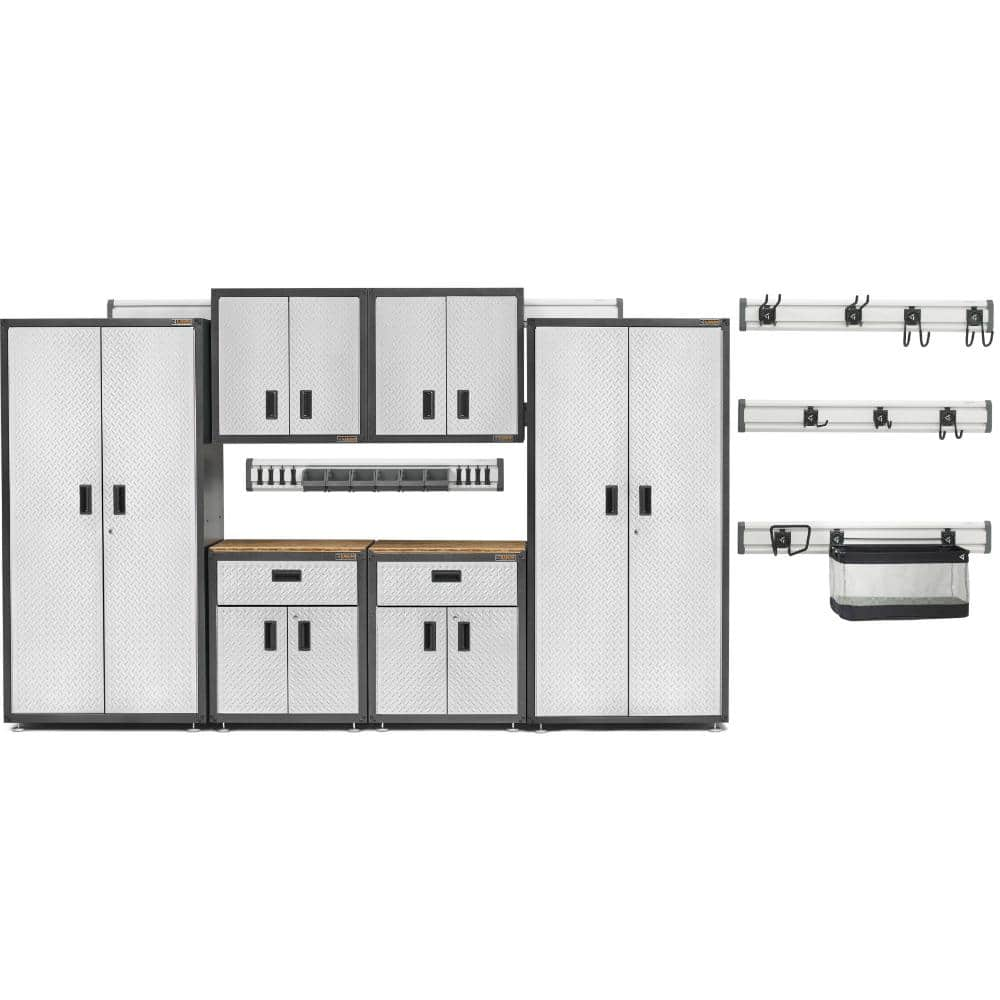 Key Features
Sturdy steel construction for durability and long-lasting use
Adjustable shelves allow for customizable storage solutions
Includes a worktop for additional workspace in your garage
17-piece set offers comprehensive storage options for all your tools and equipment
Industrial style adds a sleek and modern look to your garage space
Backed by a 10-year limited warranty for peace of mind.
Pros
Easy and convenient storage solution with a ready-to-assemble design
Versatile system with freestanding and wall cabinets for customizable organization
Ample storage space with 8 GearTrack channels, hooks, bins, and a basket included
Durable construction ensures long-lasting use in the garage setting
Cons
Some customers have reported issues with the durability of the hooks and bins
The price of the 17-piece system may be too high for some budgets
The Gladiator 17-Piece Steel Garage Storage System is an excellent choice if you want a complete organization solution.
This sturdy product is number 4 on our list because it is durable and has useful design features.
It also has adjustable shelves and two hardwood worktops. This lets you customize your setup to fit your needs. The hooks, bins, and baskets add usefulness by giving more compact storage options.
While slightly higher priced than some competitors. But the top-quality materials and great features are worth it. It's a good buy for organizing your garage!
The 10-year limited warranty also shows the maker is confident in it. This makes the Gladiator system a top pick for garage storage.
Benefits
Ready-to-assemble design includes freestanding and wall cabinets: Whether you prefer free-standing cabinets or wall-mounted ones, this product has got you covered.
Includes 8 GearTrack channels plus hooks, bins, and a basket: The GearTrack channels provide easy installation and allow for quick adjustments as your storage needs change.
Heavy-duty steel construction for long-lasting durability: It holds up to heavy use and resists damage.
Maximizes space in your garage: It uses space well in your garage. You'll have more room to park or work.
Saves time searching for tools and equipment: With everything neatly organized and easily accessible on the GearTrack channels or inside the cabinets, finding what you need becomes a breeze.
If you're a busy, DIY-loving homeowner looking to declutter and organize your garage space, the Gladiator 17-Piece Steel Garage Storage System is perfect for you!
Key Features
Modular wall-mounted cabinet system
Durable composite construction
5 storage cabinets with 12 hooks/bins
48 sq ft wall panels included
1-year manufacturer's warranty
Pros
Fully modular and customizable layout
Durable composite won't dent or rust
Lightweight panels installed in minutes
Click-in bases keep components secured
Holds up to 100 lbs per sq foot
Adapts as your storage needs change
Cons
Must assemble all components
Wall mounting requires some hardware skills
Not as heavy-duty as metal systems
The Flow Wall Wall Mounted Storage System takes garage organization to the next level with its innovative modular design. The 5-piece cabinet set mounts to the wall directly. This maximizes floor space. The durable composite material is constructed. The click-in bases let you rearrange the storage on the wall panels easily. This customizes your storage.
At 48 sq ft of panel coverage, you get tons of flexibility to mount accessories horizontally or vertically as needed. With lightweight panels that install in minutes plus the ability to adapt your system anytime, this set from Flow Wall makes it simple to keep your garage organized.
Benefits
The modular design makes the system stand out. You can move the parts to store anything – tools, gear, cans. Just click the parts to change the setup. It's easy to rearrange.
The modular mounting lets you rearrange storage often. Fixed cabinets lock you into one setup. No more constantly having to work around a layout that doesn't fit your needs.
For garage storage that adapts as your needs change, the innovative Flow Wall Wall Mounted Cabinet Set can't be beaten. The modular system mounts right on your wall to maximize floor space.
Stop fighting against a static storage solution and upgrade to the flexible Flow Wall system that evolves with you.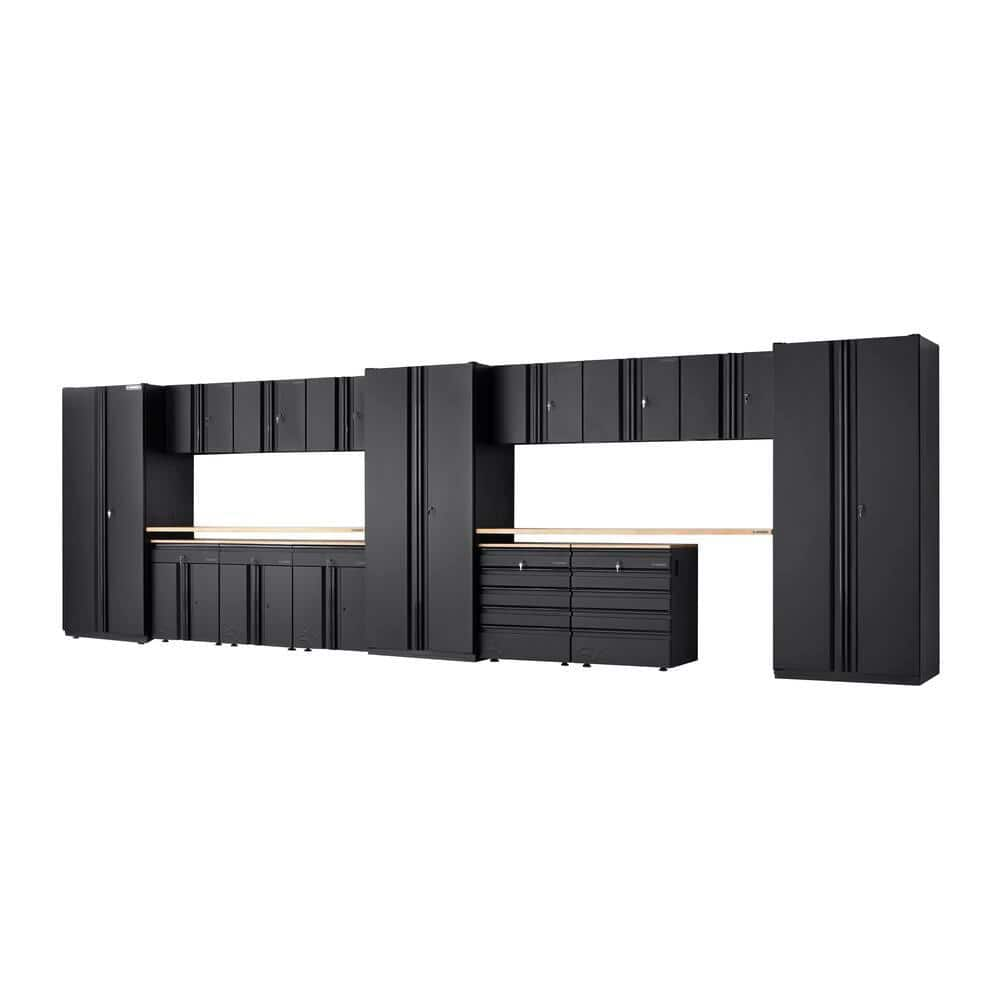 Key Features
16-piece modular cabinet system
Preassembled for easy installation
Durable 20-gauge steel construction
Lifetime warranty on cabinets
Adjustable shelves and drawers
Three-way locking doors for security
Pros
Modular design is totally to your space
Preassembled for quick and easy setup
Extremely sturdy steel construction built to last
Tons of secure storage space behind locking doors
Adjustable shelves and drawers maximize storage potential
Lifetime warranty provides peace of mind
Cons
Heavy and bulky may require professional installation
Locking doors can be tricky to align perfectly
The Husky 16-Piece Welded Steel Storage System is the best heavy-duty solution if you want to organize your garage and secure your tools, sports gear, and workshop items.
This modular cabinet set is built from thick 20-gauge steel and is designed to withstand years of wear and tear. The design has adjustable shelves and drawers for big and small items. Three-way locking doors keep things secure behind sturdy steel.
The preassembled cabinets let you customize the storage to fit your garage fast. Husky stands behind the quality with a lifetime warranty on the cabinets, so you can buy with confidence.
If you need maximum storage and security, the Husky system can handle anything. It has strength, capacity, and versatility.
Benefits
Thick 20 gauge steel construction built to last a lifetime.
The cabinets have adjustable shelves and drawers to fit power tools, nails, sports gear, and more.
Stores up to 1,370 pounds per tall cabinet.
The steel cabinets won't warp. Particle board would. The build rivals pro boxes costing thousands more.
For maximum garage storage strength and security, choose the durable and versatile Husky 16-piece Steel System.
For lifetime storage, upgrade to the Husky welded steel cabinets.
Key Features
Spacious storage: The cabinet system offers ample space with 14 shelves and adjustable options, allowing you to organize and store various items in your garage.
Versatile design: The system features a combination of shelves, drawers, and doors, providing multiple storage options for different types of belongings.
Easy installation: The package includes wall mount hardware and wheels for effortless setup according to your preference or needs.
Sturdy construction: Made from durable materials, this cabinet system is built to withstand heavy-duty use in a garage environment.
Practical dimensions: With its generous height, width, and depth measurements, the cabinet system maximizes storage capacity while fitting seamlessly into most garages.
Pros
Securely anchor the cabinet to prevent tipping injuries
Multiple adjustable and fixed shelves for organized storage space
Adjustable feet allow for equal height adjustment
Includes a drawer for additional storage options
Cons
Limited color options (only available in one color)
Assembly required may take some time and effort to put together
May not be suitable for larger or bulkier items due to the relatively narrow depth of 15.4″
This well-crafted storage system is a fit for any garage aesthetic, thanks to its versatile design and solid finish; it can harmoniously blend into a variety of color schemes.
It's adaptable – with 5 shelves and 3 adjustable ones. This makes it easy to customize your space for large or small items. The extra storage cabinet gives more room for tools or cans. You can also stash personal items like gloves in the drawer.
It comes with a wall anchor kit. This stops it from tipping over. Now you don't need to worry – it's safe and useful!
It also has adjustable feet. So the units fit right on uneven floors. All the sections line up at 74.5″ to 75″. It's easy to put together and mount. The hardware is included. This saves you time for important things.
Benefits
Secure and Safe: The Wayfair Basics® Aaru Garage Storage Cabinet System comes with a wall anchor kit, ensuring that it is securely attached to the wall. This prevents any potential tipping injuries and provides peace of mind knowing your belongings are safe and stable.
Ample Storage Space: With dimensions of 75.25″ H x 70.86″ W x 15.4″ D, this storage cabinet offers generous space for all your garage essentials. You can neatly store tools, equipment, and other items to keep them organized and easily accessible.
Versatile Design: The Aaru storage cabinet features adjustable shelves behind each door, allowing you to customize the interior layout according to your specific needs. Whether you need more space for larger items or want to create compartments for smaller tools, this cabinet adapts effortlessly.
Convenient Drawer Access: Equipped with a fully functional drawer measuring 75″ H x 23″ W x 15″ D, this storage system offers an extra level of convenience. Store smaller accessories or frequently used tools within reach for quick access whenever you need them.
Adjustable Height Option: Each unit in the garage storage system has adjustable feet that allow you to achieve equal heights from 74.5″ to 75″. This feature ensures stability on uneven surfaces while also allowing customization based on personal preferences or varying floor conditions in different areas of your garage.
This product is perfect for the organized homeowner who values durability and functionality in their garage storage system. Upgrade your cluttered space with the Wayfair Basics® Aaru Garage Storage Cabinet System.
Factors to Consider When Choosing a Garage Storage System
Pick storage that fits your garage size and layout. Also think about what you need to store, quality, installation, and ease of setup.
Looking at these things helps you pick the right storage. This gets your garage organized well.
Size and Layout of Garage
Picking garage storage depends on the garage's size and layout. The size of your garage limits how much you can fit. The ceiling height decides if you can use overhead storage.
Know the layout too. Things like windows, doors and outlets restrict where to put cabinets or shelves. Careful consideration of these factors ensures that every inch of space in your garage contributes to creating an organized, functional workspace.
Storage Needs and -Preferences
Each individual has unique items to store, from tools to sports equipment or seasonal decor.
For example, the Husky 16-Piece steel system is great if you need strong tool storage. But the NewAge Products Bold Series mounted cabinets work for lighter things or kids' toys.
Think about how often you need each item. This helps you decide where to put it. Where you put things affects use of space and reducing clutter.
Durability and Quality
Garage storage cabinets need to handle the rigors of garage life, which includes varying temperatures, humidity, and heavy items.
Good systems stay stable under stress. This makes them last longer. Buying sturdy storage upfront gives you years of reliable solutions.
Installation and Maintenance
Simplicity in assembly means less time spent on setup and more time enjoying an organized space.
Easy assembly affects the time it takes to set up storage. Luckily, many garage shelving options are designed with easy installation in mind, making it a DIY-friendly project for most people.
Check how easy installation is. This helps decide if you can DIY it or need help.
Taking care of it keeps it working well for long use.
A focus on quality during selection can also minimize upkeep needs, providing further value for money.
Benefits of An Organized Garage
Organizing your garage helps a lot with storage in many ways.
It helps extend the life of your tools by providing a designated space for them to be stored in drawers or behind doors. Having set places for tools keeps them safe and easy to find.
Organizing cuts clutter. This makes your garage look nice and open. It's easier to find things. Having less mess also makes your garage safer.
With organization, you use the space better. Projects go smoother without hunting for things. With everything neatly arranged and easy to find, you'll save time and energy that would otherwise be wasted searching through piles of miscellaneous items.
Conclusion
Among the top options in 2024, Husky 6-Piece Ready-to-Assemble Steel Garage Storage System stands out for its durability and sleek design.
Another great choice is the Prepac HangUps 3-Piece Composite Garage Storage System, which offers ample space and easy customization.
Get these top picks for an organized garage that saves you time. Upgrade your garage storage system today!
You Might Also Like:

Mike Zhang. Founder of FamilyLifeShare